3. Annual Report of Maritime Meteorology
The Ministry of Land, Infrastructure and Transport (MLIT) has conducted investigations of oceanographic phenomena since 1956, and presently conducts observations at 32 wind direction and velocity observatories, 24 wave height observatories, 14 wave direction observatories, and 7 tide level observatories. The observation data obtained throughout the nation have been compiled into the Annual Report of Maritime Meteorology every year since 1979.
The figure below shows the process of processing the data obtained at maritime meteorological observatories, as well as the observation data and diagrams compiled into the Annual Report of Maritime Meteorology. This report used to contain only graphs and tables created by statistical processing and analysis of significant wave height and other data, without showing the underlying basic data. Accordingly, users could not conduct other analyses using past time-series data, such as assessing the probability of the design external force and waves, and conducting nearshore current calculations.
To improve this situation, a CD-ROM version of the Annual Report of Maritime Meteorology has been published since 1995. This contains the time-series data of, for instance, significant wave heights on every hour and average wind velocity, stored in comma separated value (CSV) format (comma-delimited text format). The figures and tables in the Annual Report were also enhanced by, for example, adding figures and tables of flow regimes.
The figures and tables in the CD-ROM version can easily be displayed by a browser. In addition, as the maritime meteorological data stored in CSV format can be imported to spreadsheet software as is, simple data analysis can be conducted using a personal computer. The Annual Report is distributed to the regional development bureaus of MLIT and the relevant organizations of municipal governments, and it is hoped that the CD-ROM version will be effectively used for elucidating various phenomena in coastal areas.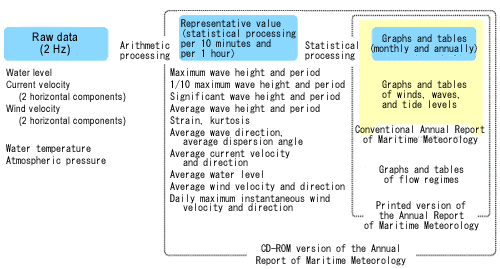 Data and diagrams compiled into the Annual Report of Maritime Meteorology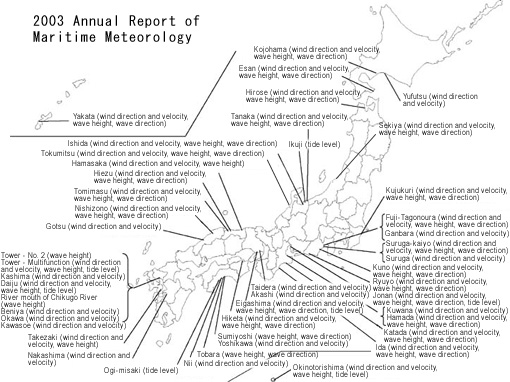 Locations of observatories